all we do is win, win, win!
my auburn tigers won the national championship,
won the SEC championship,
had the heisman winnner (CAM NEWTON!),
and an amazing undefeated season.
i CAN NOT even explain how excited i am.
if you watched the game, you know it was insane.
(i know a lot of y'all probably watch the bachelor
or pretty little liars.. i forgive your poor judgement! ;])
it was a close game.
a little too close for comfort!
however, i loved every second of it.
i saw these two newspapers today..
not sure which i like better:
as creative as oregeon's title was,
i think i like the bama paper better..
because that means my state really won it!
i may have shed a few tears last night,
because i was truly so excited.

i may have wished in was at glendale,
with tons of my friends and 60,000 other auburn fans.
but what i really wished was that i was in auburn.
there's no place i would have rather watched it.
toomer's corner was covered with toilet paper,
the fan's faces were covered with smiles,
and auburn was covered with celebration.
overall, it was an amazing day for auburn fans!
my man, cam, was all smiles for a little while afterwards..
however, that smile faded because he messed up his back.
when a reporter asked about his back, he said - "I'm OK; it was worth it."
and he added it wasn't just one hit that put him in a golf cart.
then he said, "I don't want nobody to feel sorry for me,
because throughout this year didn't nobody feel sorry for Auburn."
there was the trace of another smile,
but very quickly he was on the golf cart, head down, again in pain.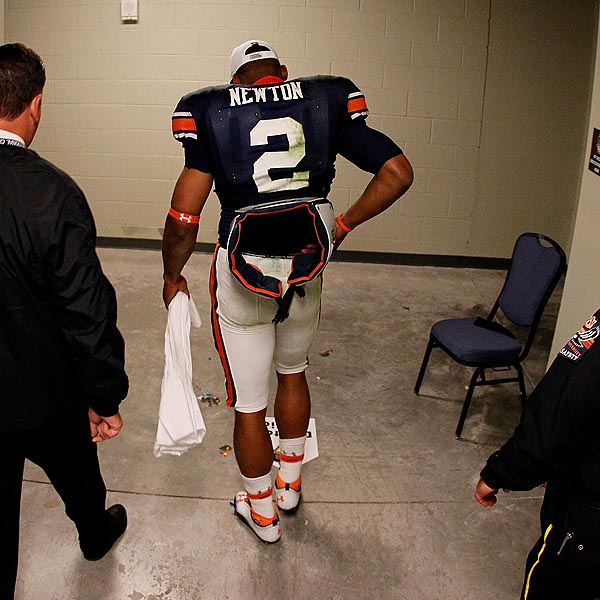 i feel bad for him.. he's truly a good guy.
regardless of the drama surrounding him this season,
he has kept a good head on his shoulders.
"I'm a prime example of how God can turn
something bad into something great," Newton said.
"Anything is possible. I bet five or six months ago,
nobody would've bet their last dollar that Auburn University
was going to be national champions. But you know,
we're smiling right now. I'll be fine. I came out on the good end of this."
like i said, it was an amazing game.
it wasn't how people expected it to be.
it was truly a team effort!
wes, fairley, dyer, and the rest of the team
were just as much a part of the win as cam.

so, all i have to say now is..
WAR DANG EAGLE!
we're national champions, baby.