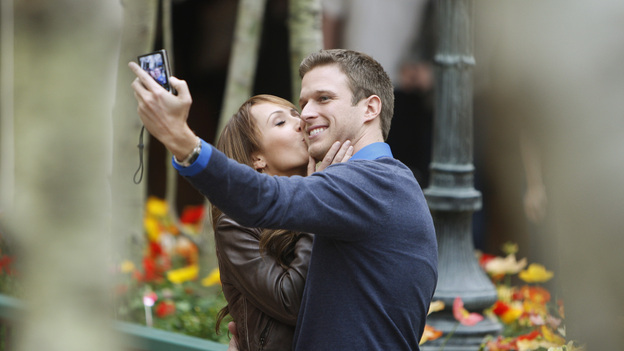 william got the first date.. score.
the whole wedding date was BEYOND awkward,
but his looks and remarks about the wedding stuff were priceless.
he was so nervous that it was kinda cute, though.
but it was really awkward for him to say i do and her not.
but on another note, his story about his dad was really sad.
he's precious,
i'll leave it at that.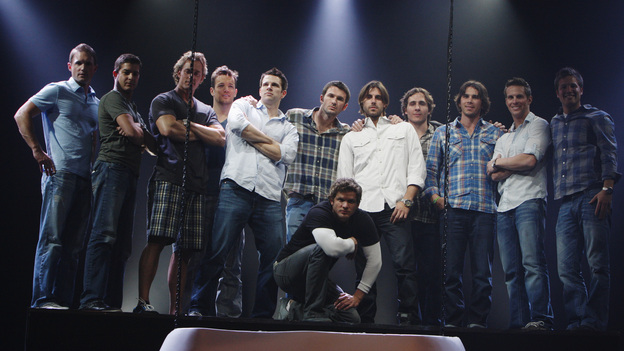 blake, west, and ryan m. were the only ones i liked in the second date,
which is sad considering there are eleven people in the group.
why are there so many guys that look like josh groban?
"ashley showing her stomach" count = like eight times, so far.
are you glad you have abs or something, sweetie?
i thought both of the group's dances sucked.. bless their hearts.
but it was pretty awesome for the winning group to get to
dance with the jabbawockeez.
every time i see a close up of west, i realize he's not as cute as i thought,
but he does seem like a sweetheart and is here for the right reason.
this episode is all about some past incidents, pretty sad.
fyi: a lot of y'all probably won't agree with this part below.. sorry.
bentley is a jerk, but he's smooth at it!
you can tell he doesn't like her, at all
and since ashley is being so clingy about him,
it makes me love him..
i know, i should hate him, but i can't -
which is what abc wants, right?
keep pretending you like her, bent!
are all the utah people psychos on this show?
at least neither are LDS, right?
if so, then they are giving us a bad rep.
"got the rose, now can we just bag this
and go play blackjack?"
"i would rather be swimming in pee
rather than planning a wedding with her."
"it started out good, but it sucked towards the end."
hahaha, bless ashley's heart..
i wish she could see these interviews.
a coin flip for the one on one?
poor j.p, but mickey sure is a cutie..
i'm just still a little hesitant about him from the kiss the first night.
the heads and tails thing on their date got annoying,
like really quickly.
when ashley said,
heads you carry me..
i was expecting, tails i walk.
but noooo, she's lazy -
so, tails was piggy back ride.
how old are you? five.
mickey's mom passed away?
geez, depressing moment count: three.
i feel like the theme this episode was:
cherish your time with people while you can!
william, west, and mickey said something about it.
flipping a coin for a rose? ..really?
i'd walk out on her.
i think i'm adding mickey to my list of keepers.
aw, mask boy feels uncomfortable?
well.. take your mask off, buddy.
actually - i'm glad it got interrupted,
it was kind of perfect.
thanks for that, abc!
ben - you don't have to talk so fast, bud.
flipping a coin for a kiss was cute, j.p..
but maybe AFTER y'all had a conversation?
picking blake last about gave me a heart attack.
you picked guys i've never even seen before him?
matt, way to call your mom.
i thought you weren't a momma's boy?
wait, 4 am is when they have rose ceremonies?
aw, baby face ryan m. got sent home!
the preview for next week looks drama filled.
mhm, i can't wait!
keepers:
ryan p. j.p, mickey, william, blake, and west.
even though i didn't get to see much of ryan p. and blake this episode!
who do y'all like?
oh, and here is em's v
ideo recap
for this episode.