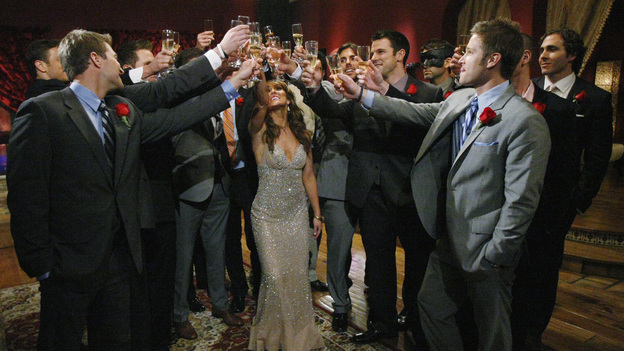 the opening montage thing started off on a good note!
i got to laugh while they got shots of ashley dancing alone
and on the balance beam looking mighty awkward.
then of course, the drama begins.. before the boys even arrive.
someone told ashley that SLC boy, bentley, is bad news.
as soon as i heard SLC - i knew michelle money was behind this.
then i stumbled across
this video
and sure enough, i was correct!
but let's talk about the guys i liked and the ones
that just gave me a little bit of entertainment:
let's talk about the weirdos, because they bring the
true entertainment as i watch the show each season.
- obviously mask man.. you're a creep, that's that.
it explains why he had no picture on the bios..
honestly - i think it's something abc has schemed up.
they do that every season, yano.
- hey mickey, trying to kiss her was really awkward.
- ole' tim, getting totally wasted on the first night was classy.
ashley killed me with "wasted opportunity" .. oh, what a pun.
those were the only weird ones i can remember.

now let's discuss the ones i like (and maybe y'all do too!):

- william is a doll, but i can't help but picture sweet home alabama.

- blake is precious.

- i still like j.p, as of now.

- ryan p is cute, glad he got the first impression rose.

- west isn't that bad either.
i'm sure that list will narrow down after the next episode, though..
the true personalities will come out soon enough.
but as for the ones she chose, hello what were you thinking?
all the ones with ugly hair got a rose, the creep with a mask got
picked first, and she kept bentley last for the suspense.
oh well.
oh, remember the adorable, emily, from last season?
well - she's making
recap videos
that y'all should check out each tuesday.